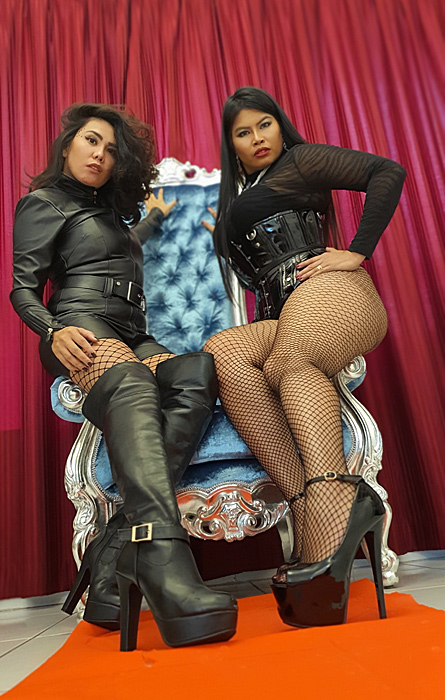 Last week I had the pleasure and honour of speaking to both Domina Fire and Queen Kali Rain together whilst they were visiting Dubai from The Philippines where they are normally based. Both ladies have been professional dominatrices for 10 years, controlling and dominating bitch boys for all that time. I caught up with both of them after they have finished their sessions for that day for a quick chat before they went out for the evening to wind down.
Domina Fire and Queen Kali are normally based in the Philippines where they enjoy to dominate, humiliate and torment their slaves in a nonsense manner. There play style ranges from the softer all the way to the harsher side. Their favourite implements include strapons, Canes and whips, especially bull whips for harder punishments. Domina Fire has a particular zest for bullying and humiliating slaves where as Queen Kali enjoys Bondage and beating guys with Canes.
Extract:
Sin: Ladies please introduce yourselves.

Queen Kali: Hello everyone, my name is Queen Kali Rain. I am 33 years old. AI been doing domination/BDSM for 10 years.

Domina Fire: Yes we will beat you.. So I called myself so in a fire, my name came from my star sign which is Iris and fire. I've been doing domination for more than 10 years, the first two years on it off because I'm working as a nurse. Then I realised that my real calling is enslaving Bitch Boys and putting them in a proper place.

Sin: What are your kink interests, passions and specialties?

Queen Kali: I love bondage. I love different kind of bondage; mummification, predicament and in addition sensory deprivation, I love anal, any kind of anal. My passion is bondage.

Domina Fire: Yes, she loves it. She gets wet tiring people up.

Queen Kali: I learned it from Youtube.

Domina Fire: Well, for me, I really am I really don't have specialty. I dominate according to my mood but most of most of all I like the mental part of the BDSM because for me, the mental game is the most powerful. Whenever when someone submits to you fully, completely, I can do whatever I want to this person with the snap of my finger. He can be my whore, my sissy or anal slut. Everything is unlimited. I can do everything. Yeah, It's a mind game for me.
I can imagine experience a double session with both these ladies in their home country of The Philippines in their dungeon would be an incredible experience; immersive and a truly devastatingly torturous experience that would be a delightful nightmare any sub would treasure forever. Those brave enough should certainly consider it for that once in a lifetime holiday in a cage, only let out when the Mistresses feel like making you suffer or to spit or urinate on you. After all hydration is important. Both ladies made it clear that is what would happen to me if I came to stay. I wonder how much flights are to the Philippines… lol
Websites:
Domina Fire – http://www.dominafire.com
Queen Kali Rain – https://www.queenkalirain.com